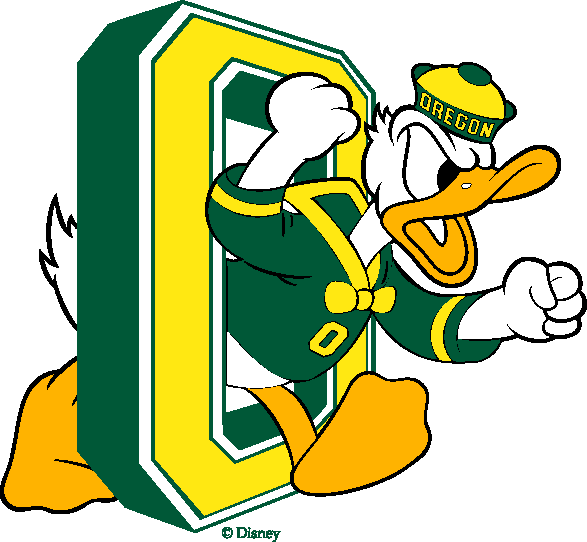 Disclaimer: The views and opinions expressed in this blog are those of the author (Chuck Miller ~ University of Kansas & Colorado Alumnus) and do not necessarily reflect the official policy or position of The Market Element LLC, or that of the other co-founder (Oliver Griebl, University of Northwestern Alumnus). If said author ruffles any 'duck' feathers, he sincerely apologizes and hopes you still continue to visit The Market Element website for future blog reading entertainment and/or digital marketing advice.
Ode to be an Oregon Duck! It kills me to say that phrase; after all I am a proud KU and CU alumnus, where sadly success on the field is more of an exception, than the rule. At the University of Oregon (UO), there is a culture of consistent, repeatable, and measurable success, on par with the preeminent college powerhouses. This winning model of consistency extends through many sports (men & women), and routinely produces championships throughout the year. Don't believe me; watch this 3-minute video produced by the UO athletic department, they call it their 'annual report'. Words like "Impressive", "Amazing", "Incredible", and "Not Fair", all come to mind when watching this video! Truly an embarrassment of riches at UO, a 'Duck Dynasty' in the making!
Much of UO's success can be attributed to the charitable investments by Co-founder and Chairman of Nike, Inc, Phil Knight, who has donated over $300 million in the past 20 years. These investments have been used to build new stadiums, training facilities, practice fields, uniforms, and overall marketing machine. I would argue that the ROI for these donations/investments are most evident in the recruiting pipeline, not necessarily in short-term financial performance of the UO athletic department ($6M operating loss in 2012). Clearly, UO has a long term growth strategy plan, fueled by a very rich and generous benefactor, who also happens to be a super-skilled marketer. In many respects, the Nike mantra of 'Just Do It', has also extended into the UO athletic department strategy, essentially do everything in your power to win today, as well as prepare to win in the future.
Many might attribute the UO athletic success to just money. I do agree that money has played a big role behind the success, but not entirely. I truly believe that UO's success can also be attributed to some basic fundamental management principles, when executed correctly have contributed to the winning culture at UO.
Here are three key management principals that I've observed from the UO athletic department, and I believe are directly applicable to small business owners. You too can make your own 'Duck Dynasty', and here are some key principles to follow and consider.
• Invest For The Future: The UO athletic department has invested significant resources in infrastructure, in the hope that this will help attract and sign the most highly skilled athletes in the country. The UO athletic department has developed a long-term investment roadmap to continually improve their programs, facilities, and overall competitiveness. On a much smaller scale, small business owners need to think about strategic investments that will provide a clear and compelling competitive advantage for the future. Understanding your customer's buyer persona, will provide a great foundation for building a long-term investment roadmap for your business.
• Pride & Passion: Phil Knight is a very savvy and smart business man, but I believe deep down that his love of UO is more than a bottom line investment. Phil has a lot of pride and passion for his school, and he desperately wants to see winning athletic program. His focused passion is very evident, and extends through-out the entire athletic department and onto the student-athlete. Both pride and passion are fundamental elements of success, and remember our employees will feed off our enthusiasm and desire to succeed.
• Creative Brand Development: If you follow college athletics, you are aware of the unique UO uniforms. The UO uniforms seem to change each week, both in style and color. One might argue that this dilutes the brand, but I would argue the opposite. I believe this brand extension strategy is liked by the target audience, and can be measured online both in social media chatter and in merchandise sales. For your unique business situation, changing your logo and color scheme on a weekly basis may not make sense. However, keeping your brand fresh and relevant is of great importance. Don't be afraid to challenge the status quo, a little brand refresh and creativity on your website, SEM, email marketing, and social media may significantly increase site visits and interest in your products and/or services.