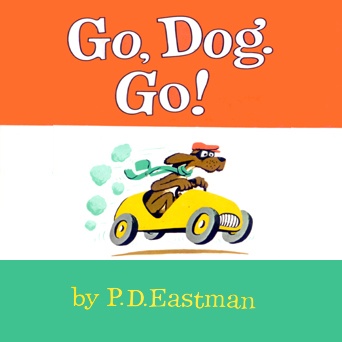 Story time is a daily event in our household, usually positioned between the bath and bedtime. On a typical evening, story time involves our son (Joshua) picking out his favorite books for us to read. In a very unscientific observation, I've noticed one book in particular seems to be one of Joshua's favorite: 'Go, Dog. Go!' by P.D. Eastman. If you are not familiar with 'Go, Dog. Go!' you are truly missing out on one of life's great literary accomplishments! Ok, not exactly, but to Joshua, 'Go, Dog. Go!' is right up there with 'War & Peace' and 'The Catcher in the Rye'. In brief, 'Go, Dog. Go!' features a variety of colorful and expressive dogs that are enthusiastically trying to get to a party, which is conveniently hosted on the top of a very large tree. The dogs are riding bicycles, scooters, skis, roller skates, and motor vehicles to get to this party. The story concludes with all of the dogs arriving at the tree party, where fun is had by all, 'THE END'. Sounds like a great party, huh?!?! This 10-page literary masterpiece was written over 50 years ago, uses less than 75 words, and was edited by Dr. Seuss himself! Simple. Fun. Engaging. A children's book classic!
Given the success and longevity of this book, what can we learn from the 'Go, Dog. Go!' winning formula? In my opinion, Mr. Eastman had an extraordinary ability to tell a story that evokes joy and excitement for small children. I appreciate how Mr. Eastman identifies the key and relevant touch points of this story, and brings them to life in a few simple words and pictures. He connects with his target audience (2-5 year olds) and makes the reading experience memorable and enjoyable for the young reader. It's a piece of cake, right? How hard can it be to write a children's book? I propose that it's not as easy as it looks. It's one thing to create the content, it is quite another to find success with content. As marketers, we can take several practical lessons from Mr. Eastman's work. Our messaging must be more than words on a website or document, it needs context, simplicity, timing, positioning, and targeting. It's incredibly hard to strike this balance, but when successful, the result is content that is appealing, personal, and represents our brand in a positive manner.
Here are a few lessons learned from my 'Go, Dog. Go!' epiphany. Hopefully, you can take these basic marketing principles, and apply them to your overall content marketing efforts.
• Know Your Customers: Understand what your customers care about, how they make decisions, and what motivates them. Understanding these answers will help you better articulate your messaging and personally connect with customers.
• Content Brevity: Learn to say more with fewer words. Be precise with your words, and think about the value of words rather than word count.
• Visuals: According to research done by 3M and Zabisco, 90% of information transmitted to the brain is visual, and visuals are processed by the brain 60,000x faster than text. Combining visual application with your marketing content increases prospect engagement and conversion rates.
• Tell A Story: Your products/services are more than just features and benefits. Instead, tell a story about how your products/services are adding value and solving a problem for one of your customers. These real-life stories are the most compelling content you can create for your business.
Blog Author: 'Go, Chuck. Go!'