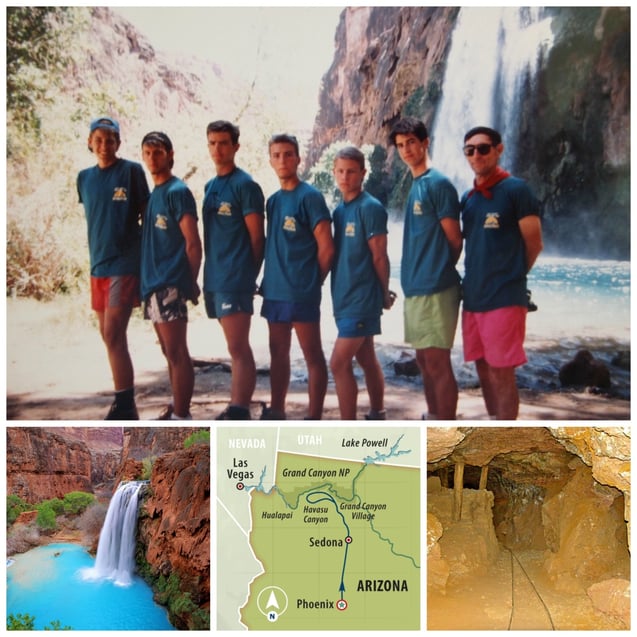 It was the summer of 1990, my good friend (Oliver Griebl) and I, and a small troop of Boy Scouts from Boulder, CO, embarked on the adventure of a lifetime! The trip was called "The Canyon Capers", a 2-week high-adventure in the Arizona wilderness (Grand Canyon, Havasu Falls, and the Colorado River). One fine morning, a few of us took a hike from Havasu Falls to an old abandoned mine shaft. Doing our best 'Raiders Of The Lost Ark' imitation, we explored the mine shaft for lost treasures. After walking only a few steps into the mine shaft it became pitch black and we couldn't see an inch in front of our faces! Luckily, one of my fellow scouts offered up his flashlight. Turning on the flashlight, we quickly noticed that we were unknowingly standing just a few feet from a massive, bottomless pit! GULP!
Needless to say, we were extremely lucky we didn't go further down that mine shaft. Maybe it was our sixth sense or just the uncertainty of taking another step, but I am forever grateful we stopped when we did. I learned several lessons from this experience, (1) No good can happen when you explore old abandon mine shafts, (2) 'Always Be Prepared' with a handy flashlight, and (3) When the uncertainty of a situation clouds your decision making, it's ok to step back, think, and assess your options. Trust me, I will never approach an abandoned mine shaft the same way again, thanks to my life changing experience 23-years ago at Havasu Falls.
I share this story, not to provide a public service announcement about abandoned mine shafts, but to convey the value and art form of effective story telling. As business professionals and marketers, we constantly look for new ways to generate compelling content mix to engage customers, increase website traffic, and generate leads. I believe that a critical part to any content mix strategy should be professional 'storytelling' about your given product and/or service offering. We all love a good story, and in many ways, storytelling is the best medium for conveying your product and/or service benefits in the context of the real world. By incorporating professional storytelling into your content mix strategy, you become authentic and believable in they eyes of potential customers. The best stories are the ones created by your customers and it is our job as marketers to capture that content, position, and communicate those stories.
I leave you with a few suggestions on how to construct your next compelling product/service story:
Theme - Know what you want to communicate with your story. Craft a story that shows how your product/service addresses a particular problem OR creates positive outcomes.
Plot - Emotionally connect as a story teller. Use the plot to explain the struggles of the customer before your product/service. The plot develops as you introduce your product/service and are able to solve their problems.
Characters - The primary characters in your story are your customers and/or the product/service users. In the end, make sure the 'hero' in the story is the customer, with your product/service being the supporting cast.
Setting - Always provide context and backdrop for your story so it engages the reader.
Style - Make your story brief, succinct, and impactful. Leave an impression of the key benefits of your products/services. I recommend including relevant pictures/image/videos with your story. Recent studies show that visual content drives engagement. In fact, just one month after the introduction of Facebook timeline for brands, visual content -- photos and videos -- saw a 65% increase in engagement. (Source: Simply Measured)
Blog Author: Chuck Miller