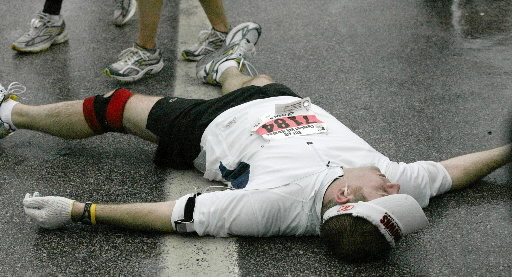 In June 2003, I took ownership of a well known and established running store in Boulder, CO (Runner's Choice). At the time, I thought I had landed the perfect job! I was an avid and passionate runner, and now the outright owner of a running specialty store in Boulder, Colorado ('Running Capital, USA'). It was a perfect situation, how could this possibly go wrong? Fast forward three short years, and I was in the process of liquidating company assets, letting employees go, and officially closing up shop. From a professional standpoint, it was the biggest, costliest, and most painful failure of my career. I often wonder what I could have done to save the business. In retrospect, there were many forces at play that made success very difficult. Some of the forces were in my control, and others were not. In the end, those forces put Runner's Choice permanently out of business in 2006.
Many entrepreneurs have experienced this same pain, humility, and disappointment associated with failed business ventures. From the ashes of failure, most entrepreneurs will find a way to rise again and learn from mistakes and miscalculations. We become wiser and hungrier for success as a result of our failures. In the famous word's of Teddy Roosevelt, "Far better is to dare mighty things, to win glorious triumphs, even though checkered by failure…than to rank with those poor spirits who neither enjoy nor suffer much, because they live in a gray twilight that knows not victory nor defeat.". I am confident that the Runner's Choice business failure has made me a much wiser professional, decision maker, and entrepreneur. I learned a great deal from my Runner's Choice experience, and I believe these lessons can also help other aspiring entrepreneurs and small business owners avoid the common pitfalls associated with business failure.
Based on my experiences as a small business owner, both in failure and success, I believe there are five key reasons why small businesses fail.
• Poor Business Plan & Execution ~ It is critical that small businesses have a plan that is viable, rational, and compelling. I recommend vetting this business plan with trusted colleagues or independent professionals that can give you honest advice and recommendations regarding your plan. The investments you make in both time and money on your business plan and execution will help mitigate risk in the future.
• Mediocre Product/Service ~ It is imperative that your product/service is of the highest quality, reliability, and consistency. Failure to deliver product/service excellence will quickly damage your brand and make it very difficult to reestablish market confidence. Make it a priority to understand and appreciate all the customer touch points surrounding your product/service. In order to maintain a level of product/service excellence, develop internal benchmarks and measurement processes to help you monitor performance compliance.
• Market Factors ~ Every market is in constant state of flux, with the entry of new competitors, products, and technology. By understanding your market landscape you will be more proactive with your business planning and mitigate future risks. This includes understanding what the critical market signals are through internal and external sources such as industry blogs, insiders, journals, etc.
• Poor Cash Flow Management ~ One of the most common stumbling blocks for small business is mismanagement of cash flow. Make sure that you have a knowledgeable and capable accounting/finance individual on your staff to help plan your business forecast and stay on top of upcoming cash requirements.
• Ineffective Marketing Strategy ~ Traditional marketing is officially dead! According to recent research by Demand Metric, custom content marketing generates 3x as many leads as traditional marketing and costs 62% less. Whether you are doing B2B or B2C marketing, your customers are demanding custom content and are less responsive to the traditional marketing schemes and tactics. Make sure that your marketing budget is geared towards inbound marketing and custom content generation. This radical shift in your marketing strategy will help you bolster your brand, lead generation, and sales conversions.
If you are concerned that your business is susceptible to one or more of these common pitfalls, make sure you seek some help immediately. The time to act is now; remember that time is your most important asset and passively waiting for things to get better is not a good strategy!
If you're struggling with your digital marketing, please consider contacting The Market Element today to have a FREE digital marketing assessment. We will help you identify opportunities for improvement and get you on the right track for success.
Blog Author: Chuck Miller